What Is it?
Tantalize your taste buds with the delightful flavours of apple, orange, pineapple and more in one refreshing beverage. Delicious fruity flavour in every sip.
What's In It?
INGREDIENTS: Ingredients list; Water, Sugar, Orange Juice Concentrate, Apple Juice Concentrate, Grapefruit Juice Concentrate, Pineapple Juice Concentrate, Natural And Artificial Cherry Flavours, Citric Acid (Acidulant), FD&C Red#40 (Artificial Colour)
Sizes
Available in 1litre and 250ml cartons.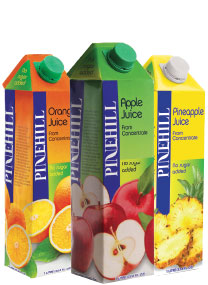 Storage
After opening, refrigerate at a maximum of 6º C and preferably consume within 4 days. Shake well before use. See top panel on carton for Best Before Date
What Can You Do With It?
Serve chilled and enjoy.
Ideal as a fruity 'pick me up'.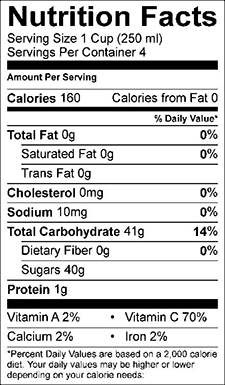 Nutritional Facts shown for the 1litre carton.