What Is it?
A flavourful cranberry juice cocktail.
What's In It?
INGREDIENTS: Ingredients list: Water, Apple Juice Concentrate, High Fructose Corn Syrup, Cranberry Juice Concentrate, Natural Flavours, Black Currant Juice Concentrate, Citric Acid (Acidulant), Ascorbic Acid (Vitamin C)
Storage
After opening, refrigerate at a maximum of 6º C and preferably consume within 4 days. Shake well before use. See top panel on carton for Best Before Date
What Can You Do With It?
Use whenever cranberry juice is desired.
Pour over ice, relax and savor.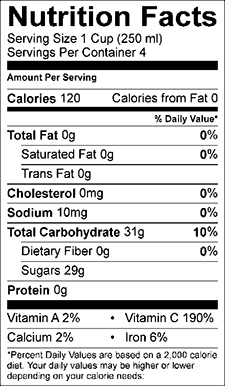 Nutritional Facts shown for the 1litre carton.