What Is it?
Preparing light and fluffy meals? No problem. With Sungold Evaporated Partly Skimmed Milk your light recipes will be perfected and with less fat.
What's In It?
INGREDIENTS: Fresh Milk and/or Reconstituted Milk (Water, Milk Solids), Mono and/or Di-Sodium Phosphate, Mono-, Di- and Tri-Glycerides (Emulsifiers), Carrageenan (Stabliliser), Dextrose, Vitamin A Palmitate, Vitamin D3
Sizes
Available in 250ml, 500ml and 1 litre cartons.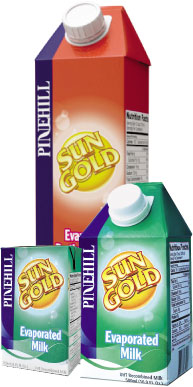 Storage
After opening, refrigerate at a maximum of 6º C and preferably consume within 4 days. See top panel on carton for Best Before Date. Shake well before use.
What Can You Do With It?
Add to your favorite tea, coffee or hot chocolate.