What Is it?
Sun Gold Evaporated Full Cream Milk is the perfect sidekick when cooking, baking, preparing tea, coffee, hot chocolate, smoothies and even cereal. Simply add either hot or cold water to return this evaporated milk to original milk consistency and enjoy using it whenever milk is necessary.
What's In It?
INGREDIENTS: Fresh Milk and/or Reconstituted Milk (Water, Milk Solids), Mono and/or Di-Sodium Phosphate, Mono-, Di- and Tri-Glycerides (Emulsifiers), Carrageenan (Stabiliser), Dextrose, Vitamin A Palmitate, Vitamin D3
Sizes
Available in 250ml and 1 litre cartons.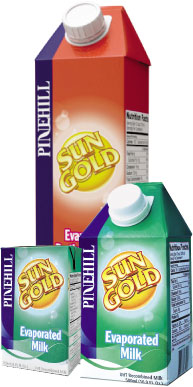 Storage
After opening, refrigerate at a maximum of 6º C and preferably consume within 4 days. See top panel on carton for Best Before Date. Shake well before use.
What Can You Do With It?
Add to your favorite tea, coffee or hot chocolate.
Boil water, mix with Evaporated Milk and add to your favourite cereal.
Add to smoothies for a silky, creamy texture.
Add to savory sauces to make them more full-bodied and flavourful.